OneTrip DHPT System Avoids Milling 158m of Cemented Casing
20th July 2017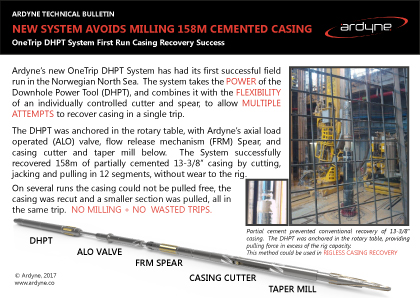 Read the Technical Bulletin
Ardyne's new OneTrip DHPT System has had its first successful field run in the Norwegian North Sea. The system takes the POWER of the Downhole Power Tool (DHPT), and combines it with the FLEXIBILITY of an individually controlled cutter and spear, to allow MULTIPLE ATTEMPTS to recover casing in a single trip.
The DHPT was anchored in the rotary table, with Ardyne's axial load operated (ALO) valve, flow release mechanism (FRM) Spear, and casing cutter and taper mill below. The System successfully recovered 158m of partially cemented 13-3/8" casing by cutting, jacking and pulling in 12 segments, without wear to the rig.
On several runs the casing could not be pulled free, the casing was recut and a smaller section was pulled, all in the same trip. NO MILLING + NO WASTED TRIPS.
Partial cement prevented conventional recovery of 13-3/8" casing. The DHPT was anchored in the rotary table, providing pulling force in excess of the rig capacity. This method could be used in RIGLESS CASING RECOVERY.
Learn More about the Downhole Power Tool